Quietwater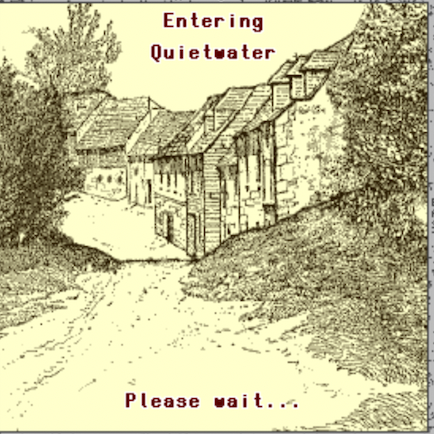 follow the cobblestone path northeast from Castle Hall once you've received your second task.
the button next to the broken ATM... turns on that ATM!
one of the first things i do when i have the Master menu is change the misspelled DEBTH wall to say DEPTH.
the teleport in the little white-walled nook takes you to Centipede Island. the Giant Centipedes aren't very strong, but there are a ton of them. to get back, step on the Dirt covered trap, and a teleport will appear where you landed, taking you back to the teleport that got you there.
there are 3 switches you need to flip:
the heart switch is pretty far west
the diamond switch is in the pink-floored building west of the strip mall
the star switch is in one of the southern brown-walled buildings - you have to go through the maze in the eastern one to find the teleport that gets you to the western one. once you've flipped the star switch, the teleport to the north will take you right out of the building.
once you get to the island that's been blocked by all those switches, don't press the button (it puts up an impassable wall to the section you're trying to reach) - i mean, you can always go back and re-press it, but why bother?
---
home: taskmaker
---
by abby, fucking around in 2021. made with love, powered by sugarfree red bull.