TaskMaker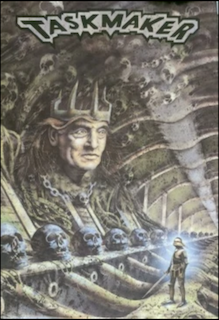 (no, not taskMASTER.)
this walkthrough is built for comfort, not for speed, just because that's how i enjoy playing. there are speed-run walkthroughs out there, and that's a perfectly cromulent way to play, but i like futzing around.
these are all the tasks you need to accomplish!
here's a list of all the spells you can cast using Other spell to invoke... (shift-O).
helpful hints:
talk to people! if they're not in a good mood, give them stuff (the Bestow command, lowercase b) and then talk to them - the messages may change.
look around! there are hidden traps and passwalls and all kinds of things lurking.
don't skip the Tutorial! you can pick up some useful stuff, plus you can level up (by casting Illuminate Area [shift-I] or Hasten Self [shift-H]) without having to worry about eating or fighting. i like to get my character clear up to level 7 before i venture into Outer Terra.
after you've met the TaskMaker, but before you do anything else, i highly recommend wandering around the Lost Gardens for a while. there's a Wish For Any Object buried in a spot that only appears after you've flipped the right switch, which you can use to get a Food Ring (so you never have to eat again), a Vision Cloak (so you can see through walls and trees), or if you know the right spell, both!
when you fight, try to do it from a position where only one enemy can reach you at a time (for instance, open curtains and doors with Action [lowercase a] instead of by walking through them).
here are all the locations in the game:
have fun!
---
by abby, fucking around in 2021. made with love, powered by sugarfree red bull.